Take a look at the list of poker games available at the Lodge, and you'll see two primary types of games.
Whether it's the Lodge, a different live poker room, or an online poker room, all poker games running at a given time are defined as either cash games or tournaments.
A poker cash game is a poker game in which the poker chips on the table directly represent real money. In other words, a $100 chip on a cash game table represents $100 in real life.
This format differs from poker tournaments, in which the chips on the table don't correlate to a real-life cash amount. A 100 chip in a tournament isn't worth $100 (or any cash value for that matter).
This article from the Lodge blog focuses on what aspects of a poker game define it as a cash game, as well as the main differences between cash games (aka ring games) and tournaments.
How Are Poker Cash Games And Tournaments Different?
Let's compare the fundamentals of poker cash games and poker tournaments:
What Are The Rules Of A Poker Cash Game?
Chip Amounts Correlate to Real Money
In a cash game, the chips you see on the table are worth real money. A $100 chip is worth $100. You can turn that $100 chip in for $100 in real money at any time.
Let's say you visit the Lodge, and want to enter the $1/$2 No-Limit Hold'em cash game (the most popular game at the Lodge).
The buy-in amount for that game is between $100 and $300, so to take a seat in the game you have to put at least $100 on the table, but no more than $300.
Suppose you decide to start with the maximum buy-in of $300. You go to the cashier cage, give the cashier $300, and the cashier gives you 60 $5 chips.
You sit at your table, and your 60 $5 chips represent $300 real dollars. When you win and lose pots, you win and lose real money.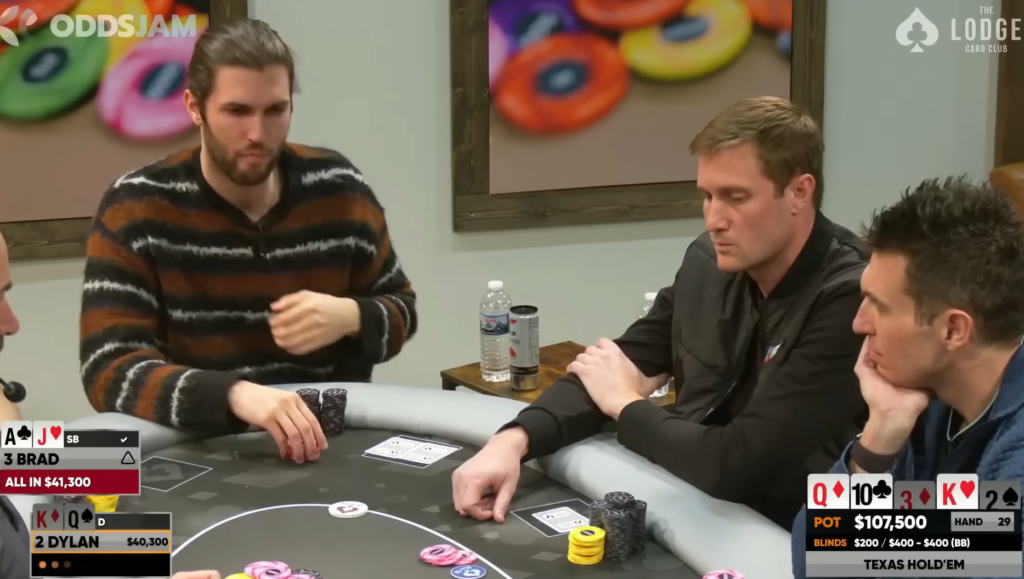 Cash Games Offer A Range of Buy-Ins Based on the Stakes
As mentioned, you can buy into the $1/$2 No-Limit Texas Hold'em cash game at the Lodge for $100-$300.
The "$1/$2" notation in that game means the small blind is $1, and the big blind is $2 at all times.
For more on how the blinds work in a poker game, check out our guide to No-Limit Hold'em.
The minimum buy-in and maximum buy-in for a cash game changes based on the amount of the blinds. The bigger the amount of the blinds, the higher the stakes of the game.
Let's look at the stakes and the buy-in ranges for some of the most popular cash games at the Lodge:
The Lodge No-Limit Hold'em Cash Games
$1/$2 No-Limit Hold'em: $100-$300 Buy-in
$1/$3 No-Limit Hold'em: $200-$1,000 Buy-in
$2/$5 No-Limit Hold'em: $200-$2,000 Buy-in
$5/$10 No-Limit Hold'em: $500-$3,000 Buy-in
$5/$10/$25 No-Limit Hold'em: $1,000-No Max Buy-in
The Lodge Omaha Cash Games
$2/$2 Pot-Limit Hold'em: $200-$700 Buy-in
$1/$2/$5 Pot-Limit Omaha: $200-$1,000 Buy-in (Match The Stack)
$1/$2/$5 Big-O: $200-$1,000 Buy-in (Match The Stack)
$5/$10/$25 PLO/Big-O: $1,000-No Max Buy-in
Note how the max buy-in for the Lodge cash game escalates in tandem with the amount of the blinds. The biggest games at the Lodge (in terms of stakes) feature a No Max buy-in, meaning you can out any amount of money on the table at any time.
Some games at the Lodge come with "Match the Stack" rules, meaning you can put an amount of money on the table equal to the biggest stack at the table at any time.
The No Max buy-in and Match the Stack games at the Lodge can definitely reach high-stakes poker territory, which is why you'll often see some of the best professional poker players in the world travel to the Lodge to play cash games.
You Can Enter and Leave a Cash Game at Any Time
Poker cash games allow players to enter or leave a game at any time. This is perhaps the biggest difference between cash games and tournaments.
In a tournament, you buy in for a set amount, and the tournament begins at a strict starting time. The object of a tournament is to survive as the last player who doesn't lose their chips.
Winning a tournament can take several hours, or even days. If you buy into the World Series of Poker Main Event, for example, you'll need to play well over 100 hours if you plan on winning the first-place prize.
Cash game players can compete on a much more flexible schedule compared to tournament players. If you show up for a cash game and want to play for two hours, you can. If you want to play for 12 hours, you can (provided the game is still running).
You Only Compete Against Players At One Table In A Cash Game
Let's say you sit in on the $1/$2 No-Limit Hold'em game at the Lodge. In a full-ring cash game, a maximum of nine players can play at one table.
For the time you're at that table, you're competing against the other players seated at your table. Players can leave and new players can enter, but at any given time you're only playing against the other players at your table.
In a tournament, you're directly competing against players at your table, but also competing against everyone else in the tournament. Using the WSOP Main Event again as an example, you're playing against 8,000 or more other players in an effort to hold on to your chips as long as possible.
In tournament poker, if a player at another table goes all-in and loses, that player is eliminated from the field. Every time that happens, that helps you.
In cash game poker, nothing that happens at any other poker table affects your game in any way. In a tournament, you have to beat all other competitors to win, no matter what number of players enter the event.
What Are The Rules Of A Poker Tournament?
Let's take a look at the fundamental aspects of a poker tournament that differentiates this format from cash games:
Tournament Chip Amounts Don't Correlate to Real Money
In a poker tournament, you buy in for a specific amount, and get a predetermined amount of tournament chips for the tournament.
Let's take a look at an example of a tournament buy-in and starting chips structure from the Lodge:
Sunday Single Re-Entry Deep Stack at the Lodge
Buy-In: $250

Starting Stack: 35,000 chips

Blind levels begin at 100/100/100

30-minute levels (late entry allowed through the beginning of Level 9)

$15,000 guaranteed prize pool

One re-entry allowed
The Lodge runs a $250 buy-in Deep Stack tournament every Sunday. If you want to play that tournament, the buy-in is $250, which gets you 35,000 chips.
All players begin with the same 35,000 in chips. Your 35,000 starting chips don't represent $35,000, or any real money amount for that matter. The object of the tournament is to not lose all of your chips.
When a player loses all of their chips, they're out. You can re-enter this tournament once if you bust out, but the re-entry period cuts off at the beginning of Level 9.
You can't get up and turn in your chips to the cashier at any point. Once you enter a tournament, you play until you're eliminated (or you win the tournament).
If you lose all of your chips, you're out the $250 you bought into the tournament with.
Some tournaments offer the opportunity to rebuy a certain number of times during the re-entry period, which means you get a new starting stack and remain at your seat.
The Blinds Increase Throughout a Tournament
The Sunday Deep Stack begins at 12:15, and the blind levels start at 100/100 with a 100 big blind ante. Every 30 minutes, the blind levels increase.
Here's a look at the blinds and levels structure from the Sunday Deep Stack:
Level 1: Blinds 100/100/100

Level 2: Blinds 100/200/200

Level 3: Blinds 200/300/300

Level 4: Blinds 200/400/400

Level 5: Blinds 300/600/600

Level 6: Blinds 400/800/800

Level 7: Blinds 500/1,000/1,000

Level 8: Blinds 600/1,200/1,200

Level 9: Blinds 1,000/1,500/1,500
Your 35,000 in starting chips is a big stack size when the tournament begins, worth 350 big blinds. That stack size (in terms of big blinds) quickly diminishes, however, as the blinds increase every 30 minutes.
In a cash game, the blinds never increase. The blinds in a $1/$2 game stay at $1/$2 at all times.
You Can't Leave a Tournament Once it Starts (Or You Lose)
Once you've entered a tournament, you must play through the duration of the event if you want to win first place.
Your tournament ends when you get eliminated, or you win the tournament. You could get up and leave if you wanted to, but your stack would remain in play, and the blinds would eat away at that stack until it's down to zero.
Don't enter a tournament unless you're prepared to put in the hours to play all the way through to the final table.
Final Thoughts On Cash Games
A few final notes on cash games versus tournaments:
Your bankroll for tournaments should be bigger than the bankroll you need to play cash games. Tournaments are a much higher-variance poker format than cash games.
For live tournaments, you likely need 100 buy-ins or more for a given stake in order to survive the ups and downs of MTT play. For live cash games, you can get away with having a bankroll of 25-30 buy-ins.
Poker strategy for cash games versus tournaments is quite different. Tournament strategy incorporates a different set of preflop ranges, and postflop play is heavily dictated by what stage of the tournament you're in.
Cash games are a bit more casual than tournaments, and you can grind your way to steady winnings if you study and pick the right games.
Tournaments offer the poker dream – winning a six-figure (or more) score if you win a big one.
Check out this Lodge article for a deeper look at tournament play: